First Place
Sony Alpha SLT-A37
Sony's DSLR line-up is unique in that none of its cameras are, technically speaking, DSLRs. Instead of a mirror that directs the light from the lens into the viewfinder, Sony's Alpha series cameras use a translucent mirror and a digital viewfinder. As the light is not reflected into the viewfinder, these cameras cannot properly be called "reflex," and Sony uses the acronym SLT (for Single Lens Translucent) to describe them.
Sony's newest and cheapest SLT camera is the Sony Alpha SLT-A37, which at $600 is firmly in the entry-level price range. While some photography purists may balk at the camera's electronic viewfinder, others will appreciate the viewfinder's 100% coverage, or the articulating LCD screen, or the 7 frame per second continuous shooting mode. All in all, Sony's A37 is a strong, competitive offering in the entry-level enthusiast camera market.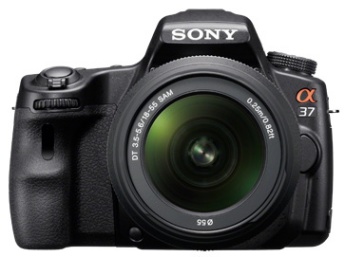 The Good
Great photos. While most DSLR cameras take excellent pictures, it can be informative to look at the differences between them. Here's a comparison between the A37 and our previous winner, the Canon T2i.
PhotoScope: Sony A37 vs Canon T2i
You'll note that the Canon T2i appears slightly sharper, while the A37 has deeper color saturation and even looks a touch underexposed. That's because Canon's DSLRs, at least at the entry-level, tend to expose their photos a touch brighter than those of other brands. However, when you look at the array of cloth near the top edge of the photo, you'll see plenty of detail in both cameras. The two are incredibly close.
So what should you take away from this? In short, you shouldn't base your purchasing decision on which camera takes the "better" picture. Both cameras are more than up to the task of taking a great photo.
100% viewfinder coverage. On a DSLR camera, light from the lens is reflected up into the viewfinder, but the viewfinder does not see everything that the sensor will see when you take the picture. As a result, the edges of the finished photo are different than the edges shown in the viewfinder. On the A37, just like on a point-and-shoot or mirrorless camera, the viewfinder image is read from the sensor, giving you a 100% accurate representation of the area to be captured.
This is advantageous for photographers, especially those interested in landscapes or other work where precise framing is appreciated. The A37's viewfinder shows, in essence, a live feed from the imaging sensor, so what you see is what you get.
Tilt screen. It is common for mid-range DSLR cameras to have articulating screens, but most entry-level cameras lack them. The A37's rear LCD can tilt up or down, which allows you to use the camera above or below eye-level with ease. And while other cameras sometimes have limits on how long you can use Live View (due to concerns about the sensor overheating), the A37 was designed to use the sensor full-time.
Fast Autofocus. One of the reasons people buy DSLR cameras after having owned point and shoot cameras is faster autofocus. DSLR cameras use phase-detect autofocus, while point-and-shoot cameras and some mirrorless cameras use contrast-detect autofocus. Phase-detect AF is (much) faster than contrast-detect AF and tends to "hunt" less often. The Sony A37's mirror directs some of the light entering the camera into a phase-detect autofocus sensor, allowing it to use this much faster system despite having an all-electronic viewfinder.
7FPS continuous shooting. At seven frames per second, the A37 surpasses the previous speed demon, the Pentax K-r, by one whole frame per second. Of course, that's at maximum speed, which limits exposure control (essentially locks exposure to whatever was appropriate for your first photo), does not refocus between shots, and shoots at 8.4 MP instead of the full 16MP the sensor is capable of. If you want to shoot with full AF, full exposure control, and full resolution, the A37 will still shoot at 5.5 frames per second. However if you're looking for a fast camera and don't like the Pentax K-r for some other reason (and there are plenty of reasons, to be perfectly honest), the A37 is in the running for the fastest cheap DSLR out there.
Great Video. People are increasingly turning to DSLR cameras for video these days, and some are undeniably better than others when it comes to moving pictures. The A37 currently sits at the top of the heap for a number of reasons. For starters, it shoots in the classic 1080p/24 format used in cinema for decades (there's also an option for 1080i/60 if you prefer a higher frame rate). Video is captured in either MPEG-4 or AVCHD; MPEG-4 is more compatible, while AVCHD is capable of capturing higher quality and takes up less space on the card. The A37 has a microphone input, as well, allowing you to capture quality sound without an outboard recorder.
The A37 has one other unique video benefit: you can use the eye-level viewfinder while shooting video. Since other DSLR cameras need to flip the mirror up out of the way when shooting video, the optical viewfinder goes black. The A37's viewfinders read from the sensor, so you can record video with the camera up to your eye, no problem.
Long battery life. You might think that the A37 would have a shorter battery life than other DSLRs since it is constantly using the image sensor, while other cameras only fire it up to take a photo. You'd be wrong, though. The A37's battery is rated to last for 500 photos on a full charge according to CIPA, which standardizes battery testing for cameras.
The Bad
Low-res screen. Sony knows that a camera competing with traditional DSLRs has to have a really good viewfinder. That's why its higher-end SLT camera, the A65, has a beautiful 3.0-inch 921,000-dot rear LCD screen. The eye-level viewfinder is an OLED screen with 2,359,000 dots. Those screens are enough to make you forget that you're looking through a digital viewfinder. Unfortunately, they don't carry over to the smaller A37. This camera uses a smaller 2.6-inch 230,000-dot rear LCD and the eye-level finder is about half the resolution of the one on the A65. The bottom line is that you can tell you're looking at an EVF. If that bothers you, or you're really tied to an optical viewfinder, give it some thought (and preferably try it out in a store) before you plunk down your money.
Combined battery/card door. Most DSLR cameras have a battery door on the bottom panel and a separate card door on one of the sides. This allows you to change memory cards without removing the camera from a tripod. The A37's memory card slot is located in the battery compartment, so there is a chance you'll need to take it off the tripod to swap cards. On the plus side, the camera has a generously-sized tripod mounting area, so chances are good that the tripod plate itself will not block the battery door -- a common problem on smaller cameras.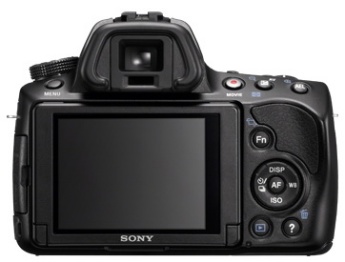 Nonstandard hot shoe. For whatever reason, Sony decided that their cameras need a different hot shoe than every other camera on the market. As a result, you'll either need to buy special Sony flashes or buy an adapter to take Sony's proprietary hot shoe back to the industry standard. While Sony's hot shoe design is more stable than the standard, special flashes to fit that shoe tend to be more expensive, and there are far fewer options.
Sensor based image stabilization. On the plus side, sensor-based IS means that every lens is stabilized. On the minus side, sensor-shift image stabilization systems in the past have tended to be less effective than lens-based image stabilization like those found on Canon and Nikon DSLRs. If image stabilization is important to you, take a close look before you buy.
The Verdict
The Sony A37 is a great crossover camera. It bridges the gap between mirrorless cameras and DSLR cameras and is a good choice for those who demand exact framing, as its 100% viewfinder makes it easy to frame your shots precisely. The A37 captures 1080p video at 24 frames per second and has a microphone input, making it a great video camera. Its articulating screen and electronic eye-level viewfinder make video easier to shoot. Fast continuous shooting is great for sports fans, while long battery life makes it a good choice for outings.
The downsides are relatively minor: the eye-level viewfinder is electronic rather than optical and lower in resolution than Sony's big A65. However, response time is fast, and when you're focused on the subject it is easy to forget that it's not an optical finder. The rear LCD is lower in resolution than many competitors, but it tilts -- something that no other cameras in this price range are capable of. A non-standard hot shoe is annoying until you buy an adapter or find a Sony-branded flash that suits your needs. Neither are deal-breakers.
When it came time to judge the standing of the A37 compared to the other cameras in this shootout, it was a tough call. DSLR purists may not enjoy having an electronic viewfinder, but 100% viewfinder coverage is a feature normally reserved for much more expensive cameras. Other than that, the Sony A37 matches or beats the Canon T2i in the areas that matter, and as an added bonus it costs almost a full hundred dollars less. With that in mind, it's a no-brainer: the Sony A37 is our new Best Camera in the cheapest DSLR category.