Third Place
Nikon D3200
Nikon's new entry-level DSLR is called the D3200. The D3200 features an all-new 24 megapixel DX-format sensor -- almost double the resolution of the D3100. It also eliminates most of the downsides that the D3100 had; it adds a microphone input and speeds up its continuous shooting rate from 3 to 4 frames per second. In short, it makes the D3100 look dated, if not a little silly. But at $699 with the standard 18-55mm kit lens, it also stretches the definition of a "cheap" DSLR.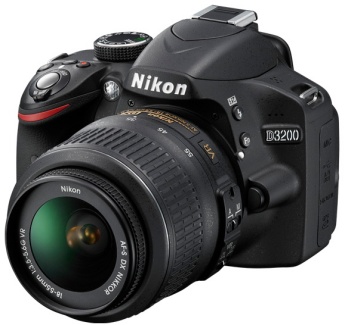 The Good
Super high resolution. Megapixels aren't good for much. What they are good at is telling you how large of a print you can make from your digital photos without losing quality. With 24 megapixels at your disposal, you can make some very, very large prints with the D3200 -- some might say absurdly large. If you've ever wanted 16" x 20" prints of your own work, the D3200 will do that for you.
How much resolution do you get? Here's a photo of a plane taking off using the standard 18-55mm kit lens at the 55mm position: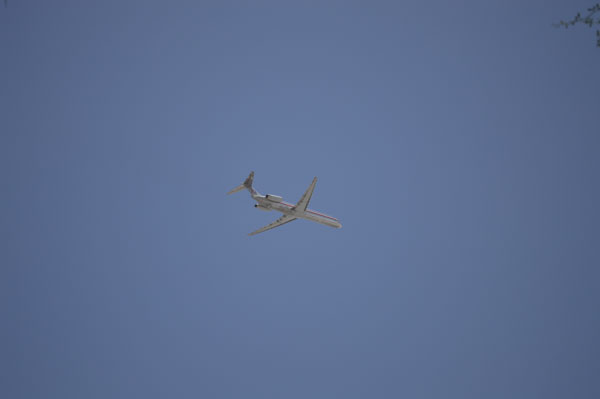 As you can see, the plane was already pretty high in the air by the time I got this photo. Now, here's a crop of the same image, showing the detail this camera can capture. You can click on the image below to see the entire photo, but beware -- it's an 8MB file and will take time to load.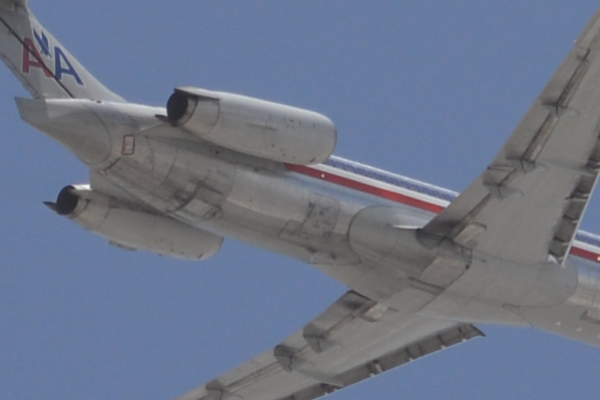 Improved movie ability. The D3200 is capable of shooting 1080p video at either 30 or 24 frames per second, as well as 720p video at 60 frames per second. What's more, Nikon has added a stereo microphone input jack.
Why is a microphone port so important? The autofocus motor on any camera makes noise while it works, and the in-body microphones pick up this noise. Unless you're recording a separate soundtrack, that means you end up with noisy video. By using an external microphone, you can eliminate this problem. For those who plan to shoot a significant amount of video, it is an important factor in making that video look and feel "professional."
Faster continuous shooting. Continuous shooting speed has been increased to 4 FPS. The D3100 shot at 3 FPS. That's not bad, especially considering how many extra pixels are being captured. That puts the D3200 on an even footing with the T2i and T3 with regards to speed.
The Bad
Picture quality in JPEG. Take a look at the Nikon D3200 versus the Canon T2i in Photoscope.
PhotoScope: Compare Nikon D3200 vs Canon T2i
The D3200 tends to slightly underexpose its images, which can be a benefit or a downside depending on what kind of shooting you're doing. It is easier to recover shadow detail than highlight detail, but having to adjust most of your images can get annoying. The pictures don't look quite as sharp as the T2i's images, probably due to a difference in default sharpening rather than a physical limitation of the camera itself. We saw more high-ISO noise on the D3200, making it less useful for low-light shooting. The D3200 also appears to have more visible JPEG artifacts than the T2i. Between the underexposure and the artifacts, the best way to use the D3200 is to shoot RAW and correct in post-processing. For a lot of people looking to purchase their first DSLR, that's daunting.
No internal AF motor. Just like the D3100, the D3200 has limited compatibility with older Nikon lenses. That means that Nikon's most affordable lenses are not able to autofocus on the D3200. To gain that ability, you'll need a D7000 or better (and by "better" I mean an equivalent semi-pro or professional body, not necessarily a newer one).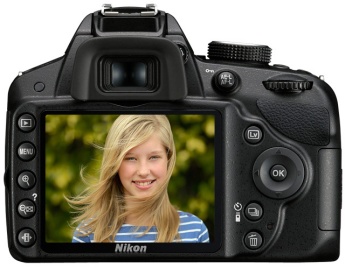 ISO Button. While the D3200 still doesn't have a dedicated ISO button, you can reassign the Function (Fn) button to control ISO. The button's placement on the front of the camera body leaves something to be desired, but the fact that it is programmable is a bonus.
Price increase. The D3100, at $549, was an outstanding value. But at $699, the D3200 is pushing the boundaries of the word "cheap." If you plan to shoot video, the D3200's 24 megapixels are of little consequence, and the microphone input is also available on the Canon T2i for $50 less or the Sony A37 for $100 less. If you don't plan to shoot video, but also don't plan to make a lot of very large prints, the D3100 will do everything you need for $150 less.
Basically, the problem with the D3200 isn't that it's a bad camera. It is emphatically not. It's just that you end up paying more for features which are either (a) already found on other, less expensive cameras or (b) of marginal usefulness.
The Verdict
The Sony A37 wins our Best Camera award because it takes great pictures and shoots great video. The D3200 can do both of those things, but the only real advantage it holds is its increased megapixel count, which -- let's be honest, here -- doesn't provide much of a benefit. Those extra megapixels come with increased cost, too. Unless you're a die-hard Nikon shooter, there's not much reason to buy the D3200 over the T2i or A37, and a pretty solid monetary reason not to get it.


Buy the Nikon D3200 here: