Best DSLR Cameras under $1000
The Mid-range DSLR Camera Shootout
We have already posted an Entry-level DSLR shootout. And you may be wondering how we are differentiating those cameras from the ones included in this Mid-range DSLR shootout. The simple answer is price.
To delineate the two categories on any other factors gets fuzzy because often entry-level and mid-range DSLRs share similar specifications and features.
And occasionally when a manufacturer introduces a new entry-level (according to price) model, like the Nikon D3200, it starts to leapfrog over earlier mid-range cameras - at least as far as some specs go. Ain't the perpetual march of technology grand.
That is the reason why we decided to include the D3200 in both our Entry-level shootout and this Mid-range DSLR one that includes the Sony a65, the Canon T4i, the Canon T3i, and the Nikon D5100.
You can see a side-by-side comparison of the specs and features of four of these cameras here.
In many aspects, these DSLRs are similar, which is not surprising. Manufacturers try to match and then outdo each other in a game of one-upmanship, "Your camera shoots 1080p video at 30fps. Well, my camera shoots 1080p video at 60fps."
Though occasionally, one model stands out from the crowd, which is true in this shootout. The winner of our 2 Camera Guys Award for Best Mid-range DSLR Camera goes to the Sony a65, hands-down.
But the most recent entry in this updated shootout, the newly released Canon T4i offers one feature that no other current DSLR - at any price - offers, a true touchscreen. As unique as that is, the Sony a65 still retains the crown.
With that said, the other three contestants offer performance and features that will entice and satisfy those who aren't ready to commit to an almost $1000 camera (with kit lens) like the Sony a65 or the Canon T4i.
BEST MID-RANGE DSLR CAMERA
Sony a65
$949 with 18-55mm lens, 24.3 MP - (More Specs)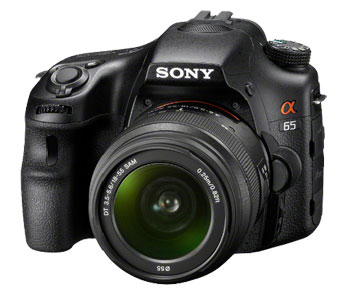 For a mid-range (under $1000) DSLR in 2012, the Sony a65 provides the whole package.
One or another of the cameras in the shootout may offer a comparable feature - the Nikon D3200 shares the same sized 24MP image sensor and the Canon T4i, Canon T3i and Nikon D5100 all supply an articulating screen with even more positions - but the a65 trumps the rest with items like a bright two million dot OLED viewfinder and a continuous shooting speed of 10fps in the RAW format.
Technical specifications aside, the Sony a65 produces excellent picture quality with a camera that is fun to use. If you are a first time DSLR buyer, the a65 might be more camera than you need, but as you become more experienced, it might be exactly the camera that you want.
(Editor's note: to represent Sony's Alpha class of cameras, this SLT-A65V model is properly shortened with the alpha symbol. Though on the Sony website, they also use the more web friendly a65, which is what we will employ.) Write it as you will, the Sony a65 earns our Best Mid-range DSLR award.
More about the Sony Alpha SLT-A65V.
Choosing a runner-up in this shootout was straightforward when the new Canon T4i was added to the mix. But when it came to ordering the other three cameras the task was more difficult. Though similar in many respects, all three cameras possess certain advantages that may appeal to you and push one model or another to the top of your list.
If you are new to this DSLR rodeo, you'll soon discover that camera bodies will come and go, but quality lenses can last for decades. And primo prime lenses can often cost more than the camera body.
The point is, if you have legacy lenses from either Canon or Nikon, then the decision between the Canon T3i and either the Nikon D5100 or the D3200 becomes elementary. Stick with the home team. But if you are a rookie, read on.
2nd Place
Canon EOS Rebel T4i/650D
$949 with 18-55mm

Zoom Lens

, 18 MP - (More Specs)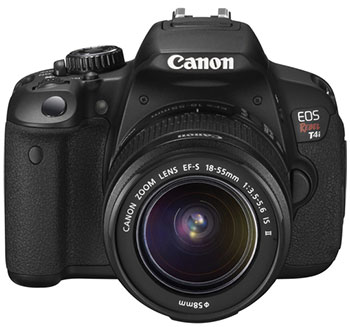 If you are looking for a DSLR with a touchscreen, then the Canon T4i jumps ahead of the Sony a65. But if a touchscreen is the prime factor in your decision, then this $950 T4i catapults over every DSLR currently on the market including the $3500 Canon 5D Mark III. But for most photographers choosing a camera is about much more than a touchscreen or any one feature.
The T4i is a fine camera and its touchscreen adds to its usability, but overall the Sony a65 with its translucent mirror technology offers better performance at a comparable price.
And actually, if you are more price than touch sensitive, then you should take a long look at the less expensive Canon T3i. At a quick glance, you may be hard pressed to see the differences between the two models side by side. Rest assured, the T4i is a worthy upgrade but most of the changes are below the surface.
(Editor's note: Canon brands this camera outside of the U.S. market as the 650D. For ease of reading, rather than constantly writing Canon T4i/650D, we'll use the shorter T4i.)
3rd Place (Tie)
Canon EOS Rebel T3i
$749 with 18-55mm Zoom Lens, 18 MP - (More Specs)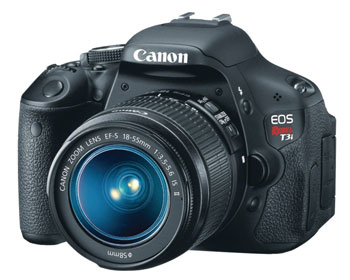 The Canon T3i is an incremental upgrade to the T2i, which we reviewed in the Entry level DSLR shootout. And their new sibling, the T4i continues Canon's tradition of evolutionary - not revolutionary - upgrades.
In this current shootout, the most comparable camera to the T3i is the Nikon D5100. They both were released in the Spring of 2011 with similar specifications and at first glance, they look alike. But if you dig a little deeper, you'll discover differences, which I will detail in the individual reviews.
Once you weigh all the pros and cons, the bottom line is that both cameras are worthy representatives of this mid-range DSLR category.
If you are batting for Team Canon and don't need an articulating screen and are not a serious video shooter, you might take a look at the aging but still capable T2i. With the release of the T4i, the T2i is retiring and you may be able to find it at a great price.
3rd Place (Tie)
Nikon D5100
$646 with 18-55mm Zoom Lens, 16 MP - (More Specs)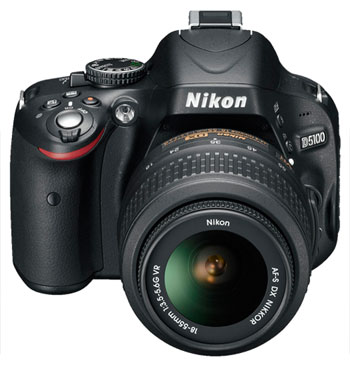 As this review is being written, Nikon is offering a $200 discount on the D5100 with or without the kit lens. That low price drops it into the entry level DSLR range and makes the camera a compelling choice.
The 16MP sensor, which was top notch last year, seems a little antiquated compared to those 24MP sensors on this year's Sony a65 and the Nikon D3200.
But don't become too star struck by the ever larger megapixel counts, 16 is more than enough for almost every application. And Nikon has tweaked it to produce high quality images with low noise even at ISOs as high as 1600 and still quite acceptable and manageable noise at 6400.
In fact, with sensors of this resolution and quality, you will be doing them a disservice by using the kit lens. Oh, that lens is more than fine for everyday snapshots. But if you want to squeeze the best performance out of all these cameras in the shootout, then buy the body only and treat you and your camera to a higher quality lens.
4th Place
Nikon D3200
$696 with 18-55mm Zoom Lens, 24.2 MP - (More Specs)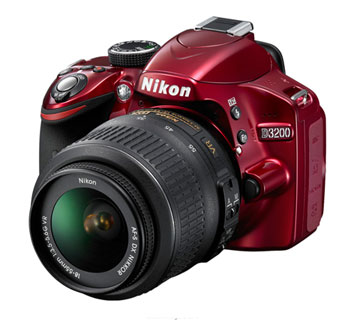 24.2 - that number just jumps out at you when you read the specifications for the Nikon D3200. And though many may think that 24.2 megapixels is simply overkill, this Nikon sensor system has garnered superior ratings for image quality, some of the best for any APS-C sized sensor.
But to really wring stellar photos from the D3200, you should be shooting RAW files and not JPEGs, which means wrangling with RAW files in a program like Photoshop, Aperture or Nikon's Capture NX. Though daunting for the newbies, the effort is worth it.
And as mentioned above, buy a good prime lens instead of the kit lens.
Even with the sensor, the D3200 just does not rise above the competition because of some basic usability issues beginning with the lack of an articulating screen.
Granted, many of you are buying a DSLR because it comes with an integrated viewfinder. But many folks who are upgrading from a camera without a viewfinder will often rely on the D3200's 3" screen.
If bright sunlight makes it difficult to see the screen well enough to properly frame and focus, then all you often will end up with is a poor picture in glorious 24.2 megapixels.
With that said, with a good lens, the D3200 can produce some lovely high-high resolution RAW files. And if you are not ready to step up to a RAW workflow, you can always set your camera to capture medium-sized JPEGs.
Reader Comments(8 comments)