Best Compact Superzoom Cameras
FOURTH PLACE

Canon Powershot SX260 HS
The Canon SX260 HS is a solid, respectable camera that holds it own in the competitive pool, but is not uniquely outstanding. Shot-to-shot reliability is better than all but the Panasonic ZS20 which is just a bit faster and more reliable in autofocus accuracy. It's 25-500mm zoom range is impressive for a pocket sized compact superzoom camera, and when you blow photos up to 100% you see not much digital noise compared to the competition. Its ability to hold reasonably accurate color values at high ISO settings is impressive.
The Canon SX260 falls short by not routinely delivering the sharpest pictures in the group. The advantage of its low noise is neutralized by the fact that the photos can be a bit soft. But if you don't plan to blow up pictures for printing in large scale, the softness is not something you will notice. The SX260 also lacks some of the sizzle features found on competing cameras like HDR, panorama mode, and 3D photos. But overall it is a solid offering that could be an excellent value at the right price if you don't care about the things it does not have.
What's HOT about the Canon SX260 HS:
1. 20x zoom range, 25-500mm. Slightly longer, but not quite as wide angle as the Panasonic ZS20's 20x zoom at 24-480mm.

2. Reasonably fast autofocus and capture. Shoots single frames once every 1.2 sec if you don't adjust zoom (faster than all but the ZS20)

3. Close to the ZS20 in picture quality, better than the Fuji F770, Nikon S9300, and Pentax VS20

4. Holds color accuracy at high ISO better than most of the competition

5. Digital noise is relatively minimal compared to all others in the group.

6. Stylish casework, looks and feels like a quality product

7. Recessed on-off button, impossible to turn on by accident

8. On-board GPS.

9. Optical image stabilization

10. A variety of multi-step volume controls

11. Can set photo review from 2 to 10 seconds, or turn it off

12. Thin pop-up flash housing allows room for left finger to rest behind it on top deck.


What's NOT so hot about the Canon SX260 HS:
1. Slightly soft images if you're blowing them up for large prints

2. 12 MP resolution is lowest in group. That wouldn't matter if the pics were a bit sharper.

3. Auto white balance too warm

4. No fine tuning of white balance

5. LCD screen has poor visibility in sunlight (typical of the group)

6. No RAW capture (but none in the group except the Fuji F770 do RAW)

7. No HDR

8. No panorama mode

9. No 3D photo option

10. GPS chews up battery life (but they all do; better to have the option than not if it's important to you).

11. Max video resolution is 1080p/24. Not as robust as the Panasonic ZS20 at 1080p/60.
A Look at the Canon SX260 HS
The two leading models in this shootout are the Panasonic ZS20 and the Canon SX260, so many will be wondering what the key differences are in picture quality. In essence, the ZS20 tends to shoot a cooler image than does the SX260 (unless you correct it); the ZS20 is slightly sharper, higher in contrast and saturation, and slightly higher in noise level. All of these comparative attributes between the Canon SX260 vs Panasonic ZS20 can be seen here:
Photoscope: Canon SX260 vs Panasonic ZS20
One of the most noticeable errors of the Canon SX260 is its tendency to interpret subjects in shade with a very warm patina. On the left below is the SX260's interpretation of a statue in shade. All other models in this shootout rendered this statue in a more accurate neutral gray, very close to how the ZS20 captured it: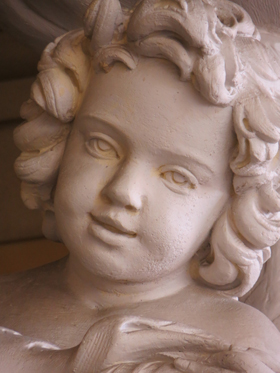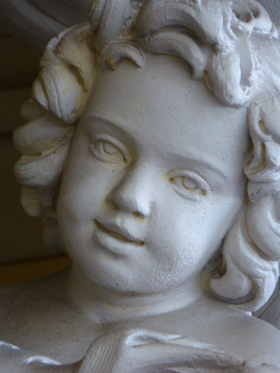 Canon SX260 HS Panasonic DMC-ZS20
While the two images above show what can happen with low contrast subjects in shade, the two below illustrate what happens in bright sunlight. In full sun the color temperature differences between the SX260 and the ZS20 are not nearly as pronounced. The ZS20 shoots a higher contrast image, but the SX260 has more open shadow detail: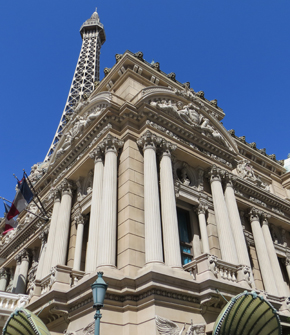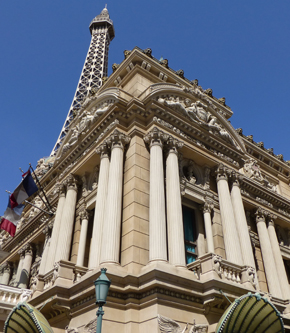 Canon SX260 Panasonic ZS20
A Key Trade-off: Superzoom range vs Picture Quality
As noted in the Panasonic ZS20 write up, a very long superzoom lens (especially the retractable variety) will never be as optically precise as a fixed or short zoom lens. So if you are looking for absolute maximum image quality and you are willing to give up the superzoom performance to get it, you should be looking at a high performance pocket camera like the Olympus XZ-1. The XZ-1 takes sharper pictures than any of the compact superzooms, but you sacrifice zoom range because its zoom lens is only 3.8x compared to 20x on the Canon SX260. That means there is a whole world of zoom photography subject matter at your fingertips with the SX260 that you can't access with the XZ-1. If you are interested in the difference in picture quality, here are the two cameras side by side in Photoscope:
Photoscope: Canon SX260 HS vs Olympus XZ-1
The Verdict
Canon enjoys a reputation for building solid compact cameras, and the SX260 HS is a good example. This camera feels great in your hands, with a bit of elegance the others lack. It is responsive in action and gives you a sense that it is a camera you can trust. It can tend to overexpose slightly in the same manner that its bigger brother, the Canon SX40 superzoom bridge camera does (see SX40 review), so setting it to -0.3 EV will be a good idea for most users. It also tends to shoot warmer than desirable color balance on occasion, especially in shade. The menu is more intuitive and easier to use than the Panasonic ZS20, and the recessed on/off button makes it extremely difficult to turn on accidentally in your pocket.