FIRST PLACE

Panasonic Lumix DMC-SZ1
If you're in the market for a point-and-shoot camera under $200, you're probably not the type of person who has the time and patience to carefully set up each photo. Instead, you're looking for a camera that will do the work for you, and take in-focus, color-balanced photos in every situation -- even if the lighting is slightly off, or your subject is a wriggling toddler.
Our first-place camera, the Panasonic Lumix DMC-SZ1, does exactly that. This 16.1-megapixel camera sports a 25mm wide-angle Leica DC Vario-Elmar lens, offers 10X optical zoom, and consistently produces crisp, focused, and well-saturated photos, even in less-than-desirable conditions. The SZ1 has several tools that will help you get the best photo every time, including an excellent "Mega O.I.S." optical image stabilizer and 20X "Intelligent" zoom.
At the end of the day, the SZ1 wins the Best Camera Award for cameras under $200 for one reason: it offers excellent image quality on a consistent basis. It's by no means a perfect camera, and it lacks some of the cooler features you'll see on our other contenders (such as the ability to take 3D photos), but let's face it -- you don't really need the frills, you just want a reliable camera for less than $200. And that's exactly what the SZ1 is.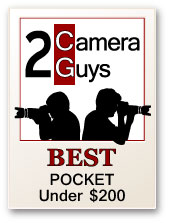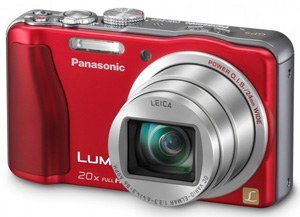 What Works:
- Consistently produces crisp, well-saturated photos

- Colors are very accurate

- Menus are simple and easy to use

- Wide panoramic mode

- Extremely bright LCD is good for use in direct sunlight

- Continuous autofocus in video mode works very well

- Excellent image stabilization
What Doesn't Work:
- Power switch and picture-taking mode/picture-display mode switch are inconvenient

- Metals and crystals look dull

- Photos are occasionally oversaturated

- Skin tones sometimes look off
A Look at the Panasonic Lumix DMC-SZ1
Design
The Panasonic DMC-SZ1 is one of the more attractive cameras in our batch. It comes in four different colors -- black, blue, silver, and red -- and has a matte metal exterior with silver accents and brushed metal buttons. There's no viewfinder, since this is a casual snapshot camera, but you do get a bright 3-inch LCD screen for setting up photos.
Unlike the other cameras in this shootout, the SZ1 sports a couple of switches instead of buttons. There's a power switch on the top of the camera, and there's a switch for shifting between picture-taking mode and picture-display mode on the back of the camera. Initially these switches seem harmless at worst, but this is actually a design flaw. The power switch can be accidentally flipped on when the camera is in a pocket or bag, and the camera cannot automatically turn itself off. Instead, it goes into a power-saving sleep mode.
The picture-taking/picture-display mode switch is much more problematic than the power switch, though. Most point-and-shoot cameras have a play button for moving quickly from picture-taking mode to picture-display mode. In this situation, the user can quickly move back to picture-taking mode by tapping the shutter button. On the SZ1, however, the user must manually switch back to picture-taking mode, and tapping the shutter button does nothing. This can be especially inconvenient if you need to quickly switch from picture-display mode to picture-taking mode -- for example, if you're showing off the photos you've taken and your toddler suddenly starts being incredibly adorable.
The SZ1 is one of the slimmer, lighter cameras in the shootout. It weighs just 131 grams (with the battery and SD card installed), which is lighter than the Apple iPhone 4S (140 grams), and just a few grams heavier than the ultra-thin Motorola Droid RAZR (127 grams).
Picture Quality
We tested the picture quality of the cameras in this shootout by identifying 15 different scenes, each with different photographic parameters (outside on a sunny day, indoors with flash, macro close up, etc), and took photos of each scene with each camera. We then ranked the photos according to focus, color balance and temperature, saturation, exposure accuracy, sharpness, and flash fill (if applicable).
The SZ1 managed to nab the most first place images, and came in fourth place on only one photo. In other words, the SZ1 most often gave us excellent photographs that were in focus, nicely saturated, and crisp. Here is an example of a perfectly balanced flash photo taken in almost full darkness, compared to what the Nikon S6300 did with the same scene: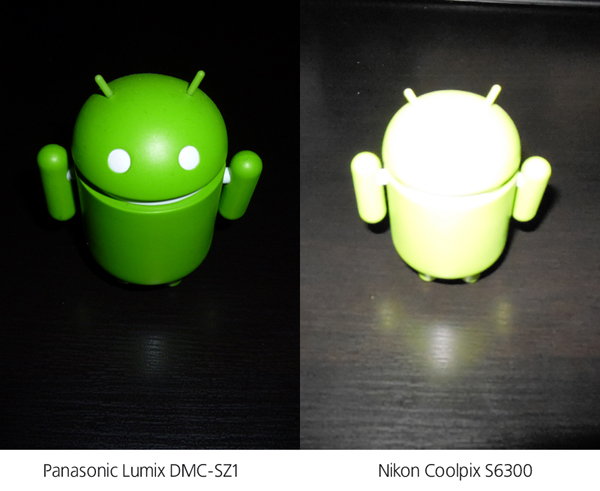 The SZ1 was able to deliver excellent exposures and color balance in a variety of scenes: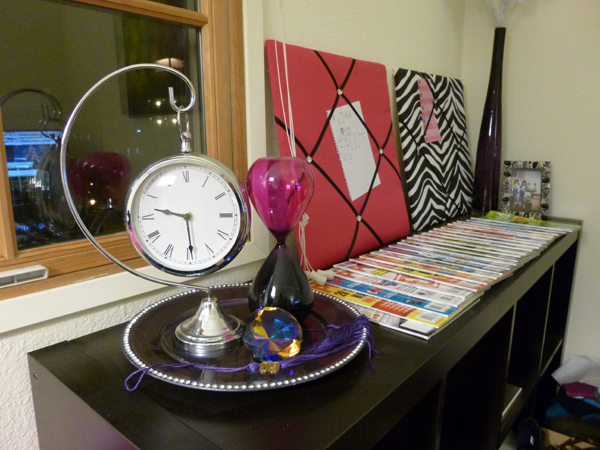 Panasonic SZ1 in indoor ambient light
In the few photos where the SZ1 didn't come in first, it was pretty close -- in one photo, for example, the SZ1's flash gave us a vignette effect which, while cool, was not intended. But the SZ1 wasn't the best camera for every type of photo, though -- it had trouble replicating the shininess of metals, gemstones, and crystals, giving them a duller, softer look than some of the other cameras we tested. For example, take a look at this photo of empty soda cans on the SZ1, as compared to the Sony DSC-WX50: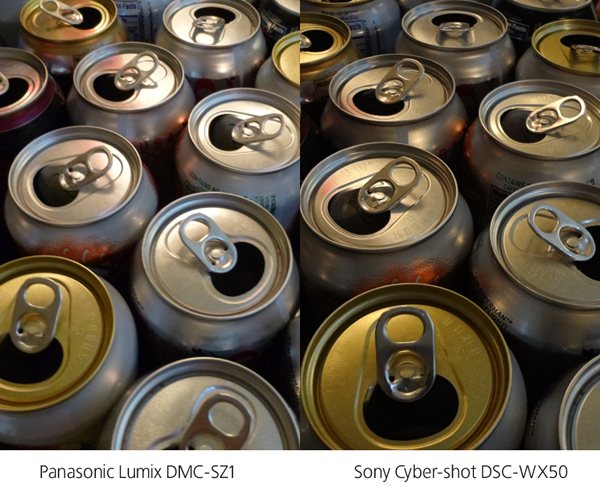 Note how much duller the cans look in the Panasonic SZ1's photo.
The SZ1 also had minor issues with skin tone accuracy. Though the skin tones we saw on the SZ1 were mostly acceptable, the WX50 gave us the best portraits of any of the cameras. Skin tones on the SZ1 occasionally looked oversaturated and a little sunburnt.
Features
The SZ1 lacks some of the higher-end features that a couple of its competitors have, such as the ability to take 3D photos or capture video in full HD (1080p). Of course, it is a budget camera, and there is something to be said for simplicity.
The SZ1's menu is pleasingly simple and easy-to-use, with just four different camera modes to choose from -- "Intelligent Auto," which automatically chooses the best camera settings for your photos; "Normal Picture," which gives you minor control over certain camera settings, such as ISO and white balance; "Mini," which replicates tilt-shift photography; and "Scene," which gives you access to 15 different preset scene modes. Scene modes include "Soft Skin," which applies a blurring effect to skin tones, and a panoramic mode.
The SZ1 shoots video in 720p at 25 frames per second. This is the lowest resolution and frame rate of the cameras tested (and the same as the Canon PowerShot A4000 IS), but it's not so bad if you're just looking to shoot hokey home videos. Panasonic does include a continuous autofocus feature that keeps everything crisp (something a lot of cameras can't do), and you can use the camera's 10X optical zoom to get extra-close to your subjects.
The SZ1's video recording button is somewhat awkwardly-placed -- it's located on the top of the camera, all the way over to the right side (when you're looking at the camera from the back). This makes it a little difficult to press, but that might be a good thing if you're prone to accidentally hitting record buttons.
The Verdict
The Panasonic Lumix DMC-SZ1 is a solid point-and-shoot camera for under $200 that offers reliable image quality and an easy-to-use interface. I don't recommend it if you're looking for lots of cool extra features or image control, but it's perfect for the family photographer who wants quality photos with no hassle. It's housed in a sturdy, attractive case, the menus are simple enough that even Grandma will be able to figure it out, and the movie mode's continuous autofocus works very well -- so it's great for home videos of small children who are notorious for leaping in and out of your focus range. Overall, the Panasonic Lumix DMC-SZ1 is the most reliable of our budget point-and-shoots, and it wins our Best Camera Award.