Best Waterproof Camera:
The top models shoot it out
Best Waterproof Camera:
Olympus Tough TG-1 iHS
Most waterproof cameras are waterproof first and camera second. In other words, the higher functions of the camera are often sacrificed in the service of creating a small, rugged, portable package. It is rare to see a waterproof camera that is camera first, waterproof second, but the Olympus Tough TG-1 is just that.
This little powerhouse sports a fast f/2 maximum aperture, allowing it to take pictures in lower-light situations without resorting to either flash or high ISO. On the other hand, its ISO range extends up to 6400, which is more extensive than many other waterproof models.
If you are primarily interested in still photography, the Olympus Tough TG-1 is the camera to beat, and as such it earns our Best Camera award. However, its video capabilities are limited by a noisy zoom lens that clicks and shakes and whines away while you try to film. As such, the Olympus Tough TG-1 shares its award with the excellent Panasonic TS4, which is still our go-to camera for video.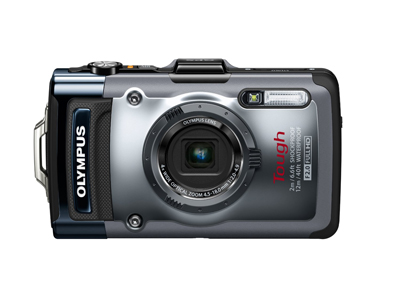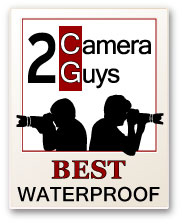 The Good
Picture quality. To evaluate picture quality, let's look at the Olympus TG-1 against its closest competitor, the Panasonic TS4:
Photoscope: Olympus Tough TG-1 vs Panasonic TS-4
Now, on first glance, you might wonder why in the world we're giving the TG-1 the nod over the TS4. At 100 ISO, the TS4 is sharper, has better color saturation, and appears to make superior photographs all around.
To get your answer, start changing the ISO. While comparing performance at base ISO is a useful indicator of a camera's performance, it is not the only indicator. More often than not, you'll find yourself taking pictures in low light, often in places where you'd rather not use a flash. In fact, one of the places where light is limited is underwater, where these cameras are designed to be used.
As you'll see, the TG-1 appears cleaner at high ISOs than the TS4, and also goes up to ISO 6400 instead of the TS4's ISO 1600. The TG-1 also has a lens that opens up to aperture f/2, whereas the TS4 cannot go wider than f/3.5. In other words, in anything but perfect lighting conditions, the TG-1 is the camera you'll want at your side.
Clear, bright OLED screen. The problem with most point-and-shoot cameras, or at least one of the problems, is that the rear LCD is hard to see in sunlight. Since most of these cameras lack an eye-level viewfinder, that makes it hard to take pictures in bright, sunny situations. To combat this, the TG-1 has a bright, high-resolution OLED screen on the back panel which is easy to see even in direct sun. For an outdoor vacation camera, that's an invaluable feature.
Fast lens. Mentioned briefly in the Picture Quality section is the TG-1's fast f/2 lens. In camera terms, a "fast" lens is one that can allow more light to reach the image sensor. The result is that the camera's shutter can open and close more quickly and the camera can take pictures with less digital noise. The result is cleaner, clearer, less shaky photos. This is especially valuable underwater, where light is extremely limited.
Continuous shooting. If sports or fast action are your thing, the Olympus TG-1 is your camera. It features full resolution shooting at five frames per second, or a whopping sixty frames per second at 3 megapixels. For the record, each frame of 1080p video is about two megapixels, so the TG-1's high speed burst mode captures higher resolution images faster. And when you go into the camera's playback menu, it will replay the high-speed captures as a slideshow, allowing for much faster browsing.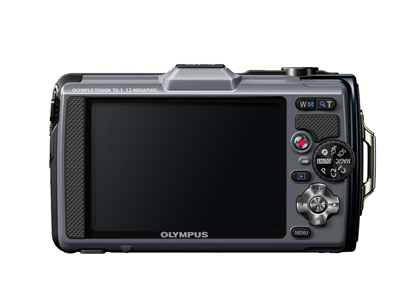 Mode dial. Most cameras this small lack a mode dial, but the TG-1 has one. The mode dial makes it easy to access your favorite settings without digging through the menus every time. Most of the time, we left the camera in Program Auto mode, but there are lots of Scene modes and Art filters (labeled Magic on this camera) to play with, and some of them are actually pretty neat.
Centrally-mounted lens. Whereas all the other cameras in today's shootout feature lenses that are tucked off to one side of the camera, the Olympus TG-1 has a lens that is right smack in the middle of the case. This makes it very easy to hold the camera without your fingers getting in the way. After struggling with the other cameras in the shootout for so long, this feature is a breath of fresh air.
Tracking GPS. The GPS on the TG-1 won't just list where you take photos. If you want, it will also create a track of where you've been with your camera. This is great for hikers and other adventuresome types, since it provides a visual record of where you've gone. What's not so great is that it drains the battery, since the GPS is left running all the time.
The Bad
Smudges. The TG-1's lens has a removable front element which protects a bayonet mount used for external accessory lenses. The front element has a tendency to get smudged very easily, which has a deleterious effect on picture quality. It's not hard to keep the front cover clean -- just wipe it with a lens cloth or even a soft t-shirt -- but it can be difficult to remember to clean it every time.
Noisy lens. The TG-1's lens makes a lot of noise during operation. When you zoom the lens back and forth, you can hear the motor working, even holding the camera at arm's length. Focus also makes a subtle clicking noise, though it is less audible during typical use than the zoom is. This matters most during video, because all of these sounds are recorded into your video clip.
The aggravating part about this is there's no real way around it. You can't stop the camera from focusing, after all. You can avoid zooming during video, but that requires a decent amount of planning and forethought. Just to be clear, almost all point and shoot cameras have problems with zoom noise in video, but the TG-1 is especially egregious in this regard.
Slow zoom. The TG-1's 4x zoom lens takes its sweet time zooming in and out. This would be great for video (if not for the noise issue above) but it can be aggravatingly slow during still photography. On the other hand, it makes it easy to zoom to exactly where you want to be.
Zoom shake in video. In addition to the noise, our TG-1's zoom lens actually shook during use. It was most evident on a tripod, when camera shake was taken out of the equation; shooting a video revealed a subtle but visible back-and-forth shuddering while the zoom was in use. It was also visible when the camera was handheld, so this is not solely a tripod issue. Again, this does not affect still photography.
The Verdict
As you may have noticed, almost all of the Olympus Tough TG-1's disadvantages have to do with video. For this reason, we do not recommend the TG-1 as a video camera, and those who plan to take a lot of video would be wise to stick with the Panasonic TS4. However, its fast f/2 lens and relatively low-noise high ISO performance make the TG-1 a great still camera, especially for underwater photography. The GPS is fast and accurate, the menus are easy to navigate, and the high-speed shooting mode is unmatched by any other waterproof camera. All in all, if you are aware of the camera's strengths and weaknesses, it is a solid purchase and highly recommended.