Premium compact cameras can be a hard sell -- they're often as expensive as mirrorless interchangeable lens cameras or entry-level DSLRs, but they have fixed lenses. These cameras -- which typically cost between $600 and $800 -- are designed to fit both amateur shooters who are looking for a little more control over their photos, and for seasoned photographers who want a portable-yet-advanced second camera.
In this premium compact shootout, we pit the Sony RX100 vs the Canon G1 X, two popular, but very different cameras.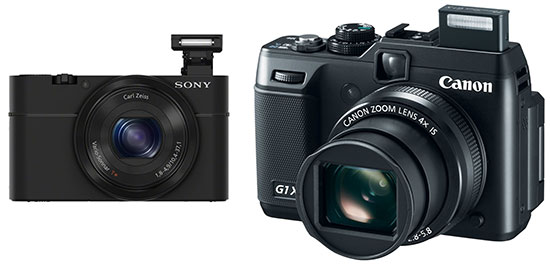 Design
The RX100 has a simple, clean design that's intuitive and easy to use. The camera is housed in a sturdy, solid black metal body, with a pop-up flash on the top and a molded rubbery thumb-rest on the back. Unlike the Canon G1 X, the RX100 doesn't have a hot shoe or a lens cap or a handgrip, which helps cut down on bulkiness.
Also, the RX100 has no viewfinder, just a bright 3-inch LCD screen, which is better-looking and higher-resolution than the one on the Canon G1 X.
The Canon PowerShot G1 X is built more like a small DSLR. The camera is housed in a sturdy, solidly-built black body with a pop-up flash and a hot shoe on the top and a large textured handgrip on the front. The G1 X has a tilt-and-swivel LCD screen, as well as an optical viewfinder.
Viewfinders are usually an advantage, but the G1 X's is just annoying. It's not positioned well, and so what you see through the viewfinder is rarely what you'll see in the final shot.
Specifications
Let me highlight a few notable specs to illustrate the difference between these two contestants in this Sony RX100 vs Canon G1 X challenge. (You can compare a full list of specifications side-by-side here.)
Size (H x W x D)
Sony RX100 2.4" x 4" x 1.4"
Canon G1 X 3.17" x 4.6" x 2.55"
Weight (body only)
Sony RX100 8.5 oz.
Canon G1 X 19 oz.
The RX100 (including the lens) is 40% thinner than the G1 X and over half as heavy. For reference, an iPhone 4S weighs around five ounces, so carrying around the RX100 is like toting a couple of iPhones -- not bad for a camera that takes 20.2-megapixel still photos and 1080p video.

Sensor
Sony RX100 1"
Canon G1 X 1.5"
Effective megapixels
Sony RX100 20.2MP
Canon G1 X 14.3MP
Sony's Cyber-shot DSC-RX100 is so small and light that you'd never guess there's a large 1-inch CMOS sensor packed in there. It's also a higher-megapixel sensor. But the Canon G1 X sensor is over twice the area (262 sq.mm vs 116) and all things being equal, when it comes to sensors, larger is better, especially in low light situations.
Image Quality
I tested the picture quality of the cameras by shooting 20 different scenes, each with different photographic parameters (outside on a sunny day, indoors with flash, macro close up, etc.).
The RX100 performed very well in my tests, which is especially impressive given its relatively small size.
The RX100 shines in multiple areas and it consistently produces gorgeous, sharp, well-saturated photos in both automatic and manual focus modes. It's particularly good at shooting images with a shallow depth of focus.
Of course, this automatic shallow depth of focus isn't always good. In landscape scenes and scenes with multiple subjects, the RX100 wasn't as good as the Canon G1 X at focusing on every subject/aspect of the photo.
The G1 X performed well in our picture quality tests, but it wasn't nearly as consistent as the Sony RX100. The G1 X usually produces sharp, focused, color-balanced photos with good exposure. However, its auto-focus sensor can be temperamental -- so you don't always get the photo you're looking for.
The G1 X isn't all bad, though. It's particularly good at taking evening and nighttime shots, producing sharp, well-lit photos that barely look like they were taken in the dark.
Finally, the G1 X seemed to offer up the better color balance than the RX100.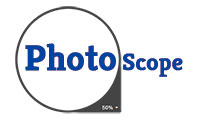 PhotoScope
In a more controlled environment, the Canon G1 X performed better than the RX100 in shooting of our studio test setup. You can see a Sony RX100 vs Canon G1 X side-by side comparison here..
If you zoom into 100% and roll the Scope over the fabric in the upper right corner, you can discern that the Canon G1 X resolves better detail. The differences become even more noticeable if you change the ISO to 1600. The Canon's larger sensor is displaying its muscle.
But to put these PhotoScope results into a real world context, the RX100 captures 20MP images. Printed at 300 dpi, that is a 12 x 18" photo. For normal Internet sharing, the images would be reduced in resolution almost 20 times and the difference in detail between it and the G1 X is minimized.
Features
The RX100 is packed with features that will appeal to both casual and professional shooters. On the casual side, it has two fully automatic shooting modes, a sweeping panorama and 13 preset scenes. On the professional side, the camera has aperture and shutter priority modes, a fully manual shooting mode, and a programmable "memory recall" mode for creating your own preset.
In comparison, the G1 X furnishes 10 picture modes, including video and two programmable preset modes, as well as an HDR mode and aperture and shutter priority modes. The camera comes with 15 preset scene modes.
The G1 X shoots 1080p video at 24 frames per second, and can also shoot in 720p at 30 frames per second. You can apply some filters to the video, such as sepia tone, black and white, and vivid red/green/blue. Unfortunately, the G1 X has no mic-in jack for plugging in an external microphone.
The RX100 shoots great-looking 1080p video at 60 frames per second. It offers multiple video shooting modes, including an automatic focus mode, aperture and shutter priority modes, and a manual focus mode. The camera has a mini-HDMI out port but no mic-in jack, so you're stuck recording audio with the camera's built-in microphone.
Neither camera offers integrated connectivity features like Wi-Fi or GPS.
Price
When the Canon G1 X was first released, it retailed for $799. Currently, its $675 street price is much more competitive with the RX100's $650 tag.
Verdict
The Sony Cyber-shot DSC-RX100 is a winner in just about every way. The RX100 is one of the best premium compact cameras I've seen.
It is much more pocketable than the Canon PowerShot G1 X. It produces consistently excellent, DSLR-looking photos and it's very easy to use, making the RX100 an excellent pick for casual photographers who want to spice up their images, or for professionals who want a pocket-sized second camera.
The Canon G1 X offers good image quality and has premium features, but it's a difficult camera to recommend. It's geared toward a veteran photographer, but it's not very small, light, or cheap, and its auto-focus system is a little wonky, especially when it comes to macro shots. That said, the G1 X does take excellent landscape photos and evening/night shots, so it really depends on what you're looking for.