Best Mirrorless Cameras 2023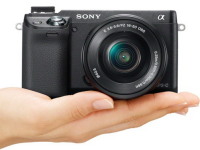 Mirrorless cameras are a new breed of digital camera that appeared for the first time in 2009 and have become quite popular since. They are smaller, lighter, and more compact than DSLRs. Like DSLRs, they have an array of interchangeable lenses and their sensors are larger than you find in typical compacts. So for their size, they can produce outstanding picture quality that rivals or may even exceed that of many of the smaller DSLRs.
Mirrorless cameras are for photographers who want more features and better picture quality than a compact pocket camera can deliver, but don't want the bulk of a DSLR. Some have electronic viewfinders, but many don't have a viewfinder at all, and you must rely upon the LCD screen to frame the image, just as you do with a compact camera or cellphone. By contrast, almost all DSLRs have optical, through the lens viewfinders which make them easier to use for seeing and composing an image. But it is the DSLR's through-the-lens viewfinder with its mirror and prism system that makes it heavier and bulkier than the sleek mirrorless cameras.
More Best Camera Lists