Panasonic GH3 Press Release
The All New DMC-GH3 - for the Explorers at Heart
Pursuing Response, Durability, and Expandability with Highest-Ever Picture Quality in Both Photo and Video
Panasonic is proud to introduce a new Digital Single Lens Mirrorless Camera DMC-GH3 of its top-of-the-line GH series. The LUMIX GH3 is not just a compact, lightweight camera. It is an attractive, top-of-the-line mirrorless single lens system camera that is tough enough to withstand the extreme conditions of heavy field use. In Europe and the United States, digital SLR cameras are called DSLR and mirrorless cameras are referred to as CSC (Compact System Cameras). Panasonic uses the term DSLM (Digital Single Lens Mirrorless) cameras to refer to its mirrorless models, and continues to develop attractive camera systems with interchangeable lenses. With the introduction of the high-end LUMIX GH3, Panasonic will be able to provide more people with the experience of exploring the remarkable potential of the digital single lens mirrorless camera.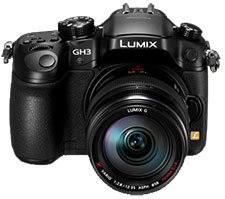 The new Live MOS Sensor achieves high-resolution images with minimum noise. And the new Venus Engine attains high-speed, high-quality signal processing. These features combine to maximize shooting fun and operating ease. Another prominent feature of the LUMIX GH3 is a tough body that is rugged enough to stand up to even professional use. It features a magnesium alloy full diecast body and advanced splash / dustproof construction that was achieved by tightly sealing the sections of the camera body to enable shooting under extreme conditions. Although the LUMIX GH3 is integrating features a class above than other G Series models, it is still compact when compared with an SLR camera featuring equivalent performance and functions. The body has enabled a new control layout with three dials on the front and back as well as single-function buttons. The LUMIX GH3 allows users to capture images in extreme environments and provides superb mobility. It also records still images consecutively at a rate of about 6 fps. The LUMIX GH3 is proud to assume the role of Panasonic's flagship digital single-lens mirrorless camera.
The video recording capability, which is highly acclaimed in the GH2, is now comes with more variety of options in its format and bitrate to meet wide-ranging needs. It is packed with advanced technologies developed by Panasonic for its professional video creation.
The LUMIX GH3 uses OLED displays both in its viewfinder and in the rear free-angle monitor. Panasonic has also developed optional accessories to expand the shooting possibility of DMC-GH3. A detachable battery grip DMW-BGGH3 for vertical viewing angle, integrates control featuring splash / dustproof design. The external TTL flash DMW-FL360L comes with wireless function and even integrating LED for video recording. The Stereo Shotgun microphone DMW-MS2 is also available. They represent a first of their kind for Panasonic cameras.
Panasonic also offers a full lineup of lenses that reinforce the LUMIX GH3. The LUMIX G X VARIO 12-35mm / F2.8 ASPH. / POWER O.I.S. (H-HS12035) is already on the market. In addition to this, Panasonic is releasing a new fast F2.8 telephoto zoom lens LUMIX G X VARIO 35-100mm / F2.8 / POWER O.I.S. (H-HS35100) to introduce with the LUMIX GH3. These two lenses achieve high resistance performance against splash and dust when combined with the LUMIX GH3.
The LUMIX G lens lineup includes a variety of models with superb image rendering, such as Leica lenses and smooth, silent power zoom lenses suitable for video recording. *This is the largest lineup of interchangeable lenses for a digital single lens mirrorless camera*. And Panasonic will continue to develop and introduce new lenses with distinctive features.
* As of 17, September 2012.
1. Delivering the highest ever picture quality with a new Live MOS sensor
The DMC-GH3 realizes high-quality photo images with real-to-life details through excellent resolution, image rendering and color reproduction; high-grade lens and precision AF achieves high resolution, optimal balance of resolution and noise reduction achieves lifelike image rendering and high precision auto exposure and white balance with live light metering results in the faithful color reproduction.
The newly developed 16.05 effective megapixels Live MOS sensor boasts wide dynamic range and high sensitivity image recording even at ISO 12800 or ISO 25600 in extended mode. The key point here was reducing noise, for which Panasonic focused on the following three areas: (1) minimizing noise in the sensor, (2) preventing sensor noise from entering the output signal, and (3) preventing noise from entering the signal processing circuit, power supply line and grounding line. To reduce noise, it is also important to design the power supply wiring and the signal wiring connected to the engine to be as close to the same length as possible. These measures not only suppress noise but also help to improve processing speed. Standard sensitivity is from ISO 200 to ISO 12800, but the user can set sensitivity to ISO 125 or ISO 25600 by using an extension function. The LPF (Low Pass Filter) has been also newly designed to minimize generation of moire while drawing maximum resolution of the image out of the sensor.
The image processor Venus Engine is also refined to achieve superior noise reduction. With a combination of 3DNR (3D Noise Reduction) and MNR (Multi-process Noise Reduction), both bright area and dark area are faithfully reproduced with minimum noise across the entire focusing range in high sensitivity image recording.
The built-in flash is enforced to feature more power and flexibility. The new built-in flash of GN12 equivalent (ISO 100 • m) / GN17 equivalent (ISO 200 • m) covers 24mm wide angle of view. Synchronization for flash dimming and exposure compensation is available with adjustment of 1/3EV Step ±3EV. Manual control and a sync terminal are newly added for more versatile use of external flash.
The DMC-GH3 also integrates HDR (High Dynamic Range) to cope with the extreme bright and dark contrast that you get, for example, with backlighting, consecutive photos are taken with different exposure levels and overlapped. Blown highlights and blocked shadows are then deleted and a single photo is composed. All processing is done in the background, so you can take your next shot without having to wait, ensuring that you don't miss a photo opportunity. Other practical shooting functions including Time Lapse Shot or Multiple Exposure are available on DMC-GH3. The electronic shutter with silent operation prevents pixel declination which is undesirable in photographing of commercial products and so on.
2. Awesome quality of video for unlimited expressions - versatile recording formats, bitrate and frame rates
Panasonic defies the conventional boundaries of a consumer digital camera elevating the potential of video recording capability even higher. Users can freely choose the format from AVCHD, AVCHD Progressive, MP4 or MOV with the frame rate at 60p (NTSC) / 50p (PAL), 30p (NTSC) / 25p (PAL) or 24p according to the usage*. The DMC-GH3 is capable of recording ultra high bitrate video recorded at 72 Mbps (ALL-Intra) or 50 Mbps (IPB). And it is capable of recording continuously for an unlimited time**.
Heat generated during long continuous recording can cause problems. It not only affects internal components but can also degrade image quality. Effective thermal diffusion is an essential design challenge. By drawing on the expertise accumulated through its many years of developing camcorders, Panasonic has revamped and redesigned the electronic parts arrangement and internal structure to achieve the optimum layout. This has eliminated heat problems in the LUMIX GH3.
When recording the video in MOV, AVCHD Progressive and AVCHD, the DMC-GH3 automatically generates multiple seamless files for continuous recording. During playback, the AVCHD Progressive / AVCHD files are reproduced with seamless, interruption-free continuity. The DMC-GH3 also embeds SMPTE-compliant Time Code either in Rec Run or Free Run count-up methods, which makes it easy to synchronize the multiple video footage or sound source in the post production workflow. Time Code Value can be started at any point of [Reset], [Manual Input] and [Current Time]. Drop frame or Non Drop Frame time code is selectable***.
For high quality sound recording, DMC-GH3 adopts Dolby® Digital for AVCHD Progressive / AVCHD videos and liner PCM (LPCM) for non-compressed video recorded in MOV. In addition to the built-in stereo microphone, the DMC-GH3 is equipped with two 3.5mm terminals for external microphone and headphone to comply with serious sound recording.
The DMC-GH3 also features Creative Video mode: Exposure mode and Slow / Fast-Motion mode. In the Exposure mode, four manual video modes: Program AE / Aperture-Priority / Sutter-Priority / Manual Exposure can be selected and they will faithfully reflect your shooting intent, and give you a wide range of video images. The Slow / Fast-Motion mode enables slow-motion (40% / 48% / 80%) and fast-motion (160% / 200% / 300%), all in Full-HD. Not only full-time AF, AF Tracking and Face Recognition AF are also available. The Touch AF in video recording also lets users enjoy professional-like rack focusing. Just by pointing the subject, the focus is shifted to it and let it stand out to attract attention. They bring the same great ease and comfort to your video work, especially when mounting the LUMIX G lens with silent design.
* 60p (NTSC) / 50p (PAL) video recording is not available in AVCHD and MP4 video recording.
** In the model for PAL areas, motion image can be recorded in 29 min 59 sec.
*** Available in the model for NTSC regions.
3. Intuitive response with nimble movement
All cameras of LUMIX G adopt Contrast AF for its focus system. Compared with the Phase difference system AF, the Contrast AF boasts higher accuracy especially in shooting with bright lens with small F value.
The DMC-GH3 features ultra-high-speed Light Speed AF makes it possible to capture even the fast-moving subject clearly. Not only the accuracy but also the speed excels by far than the high-end DSLRs with Phase difference AF with the advanced Contrast AF system in DMC-GH3. The camera and the lens exchanges the digital signal at max. 240 fps to minimize the time to focus. Together with the quick start-up and short release time lag, the DMC-GH3 never lets photographers miss fleeting shooting opportunities.
The DMC-GH3 boasts high-precision, high-speed dual OLED (Organic Light-Emitting Diode) displays for LVF (Live View Finder) and rear monitor. Increasing the resolution of display area to 1,744K-dot equivalent, the new 16:9 Wide Screen LVF boasts approx.1.34x / 0.67x (35mm camera equiv.) magnification and 100% field of view and eyepoint of approximately 21 mm. By adopting the OLED display, the display time lag is minimized dramatically compared with the predecessor DMC-GH2. The image output between the LVF and the rear monitor is switched automatically with the eye sensor on the LVF, which features options of sensitivity - high, low and off - to reduce false operation during touching on the rear monitor.
The 3.0-inch 614K-dot free-angle OLED rear monitor (3:2 aspect) with wide-viewing angle rotates 180° to the side and tilts 270° up and down offers approx. 100% of field of view. The OLED rear monitor adopts static touch control for more smooth operation either in shooting or in playback.
The DMC-GH3 captures moving subject clearly with the burst shooting at 6 fps in full resolution (max. 18 consecutive shots of RAW+JPEG) and 20 fps in 4-megapixel recording using an electronic shutter (max. 80 consecutive shots of JPEG).
The DMC-GH3 comes with Level Gauge which lets the camera detect the horizontal / vertical angle of view with its internal level working with the acceleration sensor. Photos shot in a portrait aspect will be automatically displayed vertically whatever lens is used.
4. Superb controllability and rugged design
Panasonic developed DMC-GH3 in pursuit of the shooting style that lets users hold the camera tight looking into the viewfinder. As a result of this, the best-balanced body design has been achieved with the ergonomic grip and optimum layout of control buttons and dials. Each button has a single function to allow intuitive operation. Major controls such as shutter speed, exposure compensation, ISO and white balance settings can be quickly adjusted with the front/rear dials and rear jog dial. Users can customize a total of 7 function buttons (5 in button and 2 in touch menu tab) by allotting a function they uses often. The control panel is fully redesigned enabling even more intuitive operation. Using the LUMIX G Series' first detachable battery grip with integrated controls for vertical shooting angle, which was developed concurrently with the LUMIX GH3, the user can operate the dials and buttons easily in virtually the same way as when shooting in the horizontal angle of view.
The new LUMIX GH3 is tough enough to withstand even heavy field use. The main structural features of the LUMIX GH3 are its magnesium alloy full diecast frame and a splash / dustproof construction.
Like previous models, the LUMIX GH3 has many moving parts, such as the free-angle OLED rear monitor. Thus, ensuring a high level of splash / dust resistance was not an easy task. In particular, careful attention was given to the popup flash. To prevent vignetting caused by the lens, the popup flash incorporates a sliding mechanism that raises the flash to its operating position. Panasonic has taken thorough measures to prevent the entry of dust and water from this section. There are also splash / dust-proof interchangeable lenses (LUMIX G X VARIO 12-35mm / F2.8 ASPH. / POWER O.I.S. and LUMIX G X VARIO 35-100mm / F2.8 / POWER O.I.S.) and the new Battery Grip DMW-BGGH3 to secure its high resistance.
5. A variety of interfaces
The DMC-GH3 comes with a variety of connection terminals for more flexible shooting options. The newly added a 3.5mm microphone jack allows high quality audio recording using an external microphone. It also comes with a 3.5mm headphone jack enabling monitoring the recording audio while shooting video real-time. The DMC-GH3 is also capable of real-time image output not only on the OLED display (LVF or the rear monitor) but also on the external monitor via an optional HDMI mini cable simultaneously while recording video. It is suitable for the professional video making that requires serious monitoring of the imageries. Users can choose to output only the recording content or the content with the setting menus individually depending on a display.
In addition to these, the DMC-GH3 complies with remote control with optional Remote Shutter DMW-RSL1 and AV output (Audio 2ch, Composite).
The compatibility with the UHS-I (Ultra High Speed I) SDXC/SDHC Memory Card allows faster data writing even in RAW recording mode.
6. Wireless connectivity via Wi-Fi
The DMC-GH3 integrates a built-in Wi-Fi® module for wireless connectivity (IEEE 802.11 b/g/n) to expand shooting possibility. A smartphone or a tablet can be used as a remote controller and a remote monitor. What the camera is seeing is displayed live smoothly on the smartphone / tablet and it is possible to set various controls including focus setting, exposure compensation, ISO, WB and Photo Style in addition to shutter release via live view using Wi-Fi.
After shooting, images even including a RAW file can be transferred to a smartphone or tablet directly right on the spot. Users can choose to upload images to the LUMIX CLUB Cloud Sync.Service via Wi-Fi- tethering and to send them to the DLNA (Digital Living Network Alliance) - compliant AV equipment via a wireless router at home. In addition, it is possible to tag the location information to the image by utilizing the GPS (Global Positioning System) log of a smartphone / tablet. All these flexible shooting / browsing / sharing style are made possible with the DMC-GH3 and the Panasonic's dedicated application software "LUMIX LINK" for Android / iOS smartphones.
Archiving images is troublesome as they increase but the users can do it wirelessly with the DMC-GH3. Also, users can save precious record of memory to the Panasonic's exclusive "LUMIX CLUB Cloud Sync.Service". In this cloud service, personal folder is allotted to the DMC-GH3 users to upload image data anytime to transfer the image saved at this space to Facebook™, Flickr™, Picasa™, Twitter™ or YouTube™. With the LUMIX CLUB Cloud Sync. Service, not only full-resolution photos but also HD quality videos can be synchronized among the compliant electronic devices you are using (e.g. PC, smartphone and AV equipment) or transferred to the web services as you like. The Wi-Fi function also allows playback of images on the DLNA-compliant VIERA HDTV for viewing in private or public*.
* The wireless access point (router) is required.
7. Creative Expression
The DMC-GH3 incorporates Photo Style and Creative Control for more unique expression tailored for the photographer.
With the Photo Style, users can manually choose from 6 color types to get even more detailed image settings, or to match the shooting situation. In addition, the contrast, sharpness, saturation or noise reduction for each mode parameter can be customized in 11 steps and stored in memory. In Custom Mode, finely customized settings can be stored for easy recall and use.
The Creative Control lets you enjoy giving your intention to make the image even more impressive. A total of 14 filters are available - Expressive, Retro, High Key, Low Key, Sepia, Dynamic Monochrome, Impressive Art, High Dynamic, Cross Process, Toy Effect, Miniature Effect, Soft Focus, Star Filter and One Point Color. Most of the filters can be used in video recording, too. With the new GUI and menu tabs, switching filter effect is extremely easy and is possible to preview via the Live View. Effect parameter, defocusing area and exposure compensation are also adjustable.
8. Rich options for further expandability
The Micro Four Thirds System products are joining today's Four Thirds System products to provide customers with even higher levels of performance in a digital interchangeable lens camera. In addition to LUMIX G lenses, the LUMIX DMC-GH3 can use any interchangeable lens that complies with the Four Thirds System standard via an optional mount adaptor DMW-MA1 and with the prestigious Leica M/R Lenses via DMW-MA2M or MA3R. This gives the user access to the unlimited number of lens properties.
Also, the LUMIX DMC-GH3 offers a wide variety of options to choose from to match every shooting situation and shooting style.
New Battery Grip DMW-BGGH3
The ergonomically designed Battery Grip DMW-BGGH3 gives DMC-GH3 longer battery life of more than 1,000 pictures*. It offers comfortable grip and easy handling even in vertical shooting. Three dedicated buttons for exposure, ISO and WB are equipped in addition to the release button on the top as well as the front/ rear dials to be used just in the same way of using the camera DMC-GH3. This is also dust / splash-proof design.
* When using LVF and the battery inside the body is also used.
New External Microphone DMW-MS2
The new plug-in power type External Microphone DMW-MS2 with windjammer enables high quality audio recording. Directional control Stereo / Shotgun is switchable in the menu. The holder is designed with vibrational absorption mechanism. It is designed with metal to offer a sophisticated look. This advanced external mic suppresses the camera's motor noise and handling noise, to capture the sound that you're aiming for.
New External Flash DMW-FL360L
The new GN36 (ISO100?m) flash complies with useful bounce lighting. A wireless capability is handy for multiple-flash shooting. The LED light is especially useful for video shooting. Charging is fast at only about 2 seconds, to provide comfortable and easy flash shots.
"AVCHD Progressive", "AVCHD", the "AVCHD Progressive" Logo and the "AVCHD" Logo are trademarks of Panasonic Corporation and Sony Corporation.
Dolby and the double-D symbol are trademarks of Dolby Laboratories.
HDMI, the HDMI logo and High-Definition Multimedia Interface are trademarks or registered trademarks of HDMI Licensing LLC.
All other company and product names are trademarks of their respective corporations.
This unit is compatible with both SD/SDHC/SDXC Memory Cards. You can only use SDHC Memory Cards on devices that are compatible with them. You cannot use SDHC Memory Cards on devices that are only compatible with SD Memory Cards. (When using an SDHC Memory Card on another device, be sure to read the operating instructions for that device.)
Some accessories are not available in some countries.
The use of recorded or printed materials that are protected by copyright for any purpose other than personal enjoyment is prohibited, as it would infringe upon the rights of the copyright holder.
Design and specifications are subject to change without notice.
Product Information